Parsley Sauce
If you're wondering how to make parsley sauce, then you need to start with a basic white sauce recipe.
You can use fresh parsley, frozen or dried. Four tablespoons fresh chopped parsley, 1 tablespoon of dried or 2 tablespoons of frozen.
White sauce is the basis of many different sauces, once you've mastered it, you have multiple choices.
You can add cheese, onion, mushroom, shrimp and it's the basis of many different fish pies.
I love parsley sauce with baked ham, new potatoes, peas and broad beans. 
---
---
 Sauce Recipe

1 ½ oz (40g) 1/4 Cup butter
1 ½ oz (40g) 1/4 Cup white flour
¾ pint (470ml) 1 1/2 Cups milk
Salt and pepper to taste
4 tbspns fresh chopped parsley or equivalent - see notes above
Melt the butter in a heavy pan.
Remove from the heat and stir in the flour – get all the lumps out by pressing with a wooden spoon.
Cook over a low heat, stirring constantly for about 2 minutes.
Remove the pan from the heat and gradually add the milk. Pour a little at a time and whisk with a balloon whisk or stir with the spoon so that the mixture gradually gets runnier.
Season with salt and pepper.
Return the pan to the heat and stir constantly whilst the sauce thickens. Cook for about 10 minutes and keep stirring from time to time - just let it cook gently, but make sure it doesn't stick.
Add the parsley after about 8 minutes, stirring well to mix through.
It's not hard and a lot of people make a 'big thing' out of it. The secrets are to make sure you get the lumps out of the initial butter and flour mix, cook it for a couple of minutes and use a balloon whisk to incorporate the milk thoroughly into the butter and flour.
If you make sure you have no lumps at each stage, then you will have a perfect sauce.
Leave out the parsley and melt 6 oz (150g) grated hard cheese and pour over cooked cauliflower for cauliflower cheese, add a large chopped and softened onion to the cooked sauce - the limit is your imagination.
Where would you like to go next?
The Herb Guide

›
Herb Recipes
› Parsley Sauce Recipe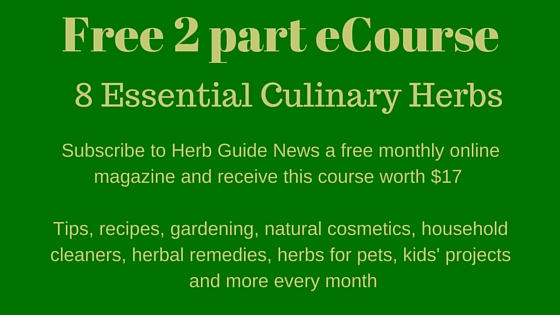 Some of the links on this site include affiliate links, providing the Herb Guide a small percentage of the sale at no additional cost to you. You are not obliged to use these links to make a purchase, but if you do, it helps to support this site.
Home
|
Contact
|
Sitemap
|
About Me
Herb Guide TV

---
Parsley Sauce
By Liz Alderson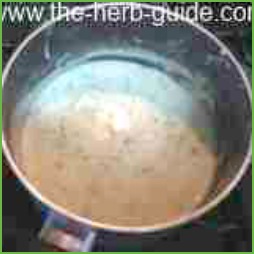 Parsley sauce is so good with fish or ham and vegetables.
Prep Time: 1 minutes

Cook time: 6 minutes

Yield: 4

Main Ingredient: parsley, milk