Tomato Basil Soup Recipe
As an Amazon Associate I earn from qualifying purchases

This is a wonderful creamy tomato basil soup recipe.
You could quite easily use tomato juice for this recipe rather than fresh tomatoes.
I use passata which is sieved tomato.
You will need 6 Cups equivalent.
Some warm crusty bread with this would be wonderful, soft and fluffy in the middle and crunchy on the outside.
Try some homemade herb bread.
Or just a sandwich.
This would be great in a flask to take for lunch at school or work.
---

You can try a sample lesson to help you decide if the Herbal Academy of New England is the right choice for you - click the link below.
Preview Lesson from the Introductory Herbal Course
---
Tomato Basil Soup

1 1/2lb (700g) fresh tomatoes - cut into quarters
OR 2 tins canned and 1 tbspn tomato puree
OR 4 1/2 Cups 1 1/2 pints (1 litre) tomato juice/passata                                            

1 medium onion - peeled and chopped finely
1 medium potato - peeled and chopped finely
1 clove garlic - peeled and crushed
1 1/2 Cup, 1/2 pint (275ml) white stock - chicken or vegetable water
12 fresh basil leaves - chopped or 1 tspn dried
Olive oil to fry

Heat the oil in a pan and gently fry the onion, potato and garlic until soft.
Add the tomatoes and stock and bring it to the boil.
Allow it to simmer for about 25 minutes.
You can either sieve the soup or liquidise it - I prefer to liquidise, but some people don't like the pips from the tomatoes, so that's your choice.
Then add the basil and bring it back up to serving temperature.
Taste and adjust the seasoning - salt and pepper if necessary.
This soup is equally good served ice cold in the summer.
I would serve it with some hot crusty bread and butter.
To be honest, most fresh tomatoes are a little disappointing in flavor I find - if you can get really ripe ones, then use them, but if they're those tasteless things that you find at the supermarket these days, then use either canned tomatoes or tomato puree/juice.
For the stock, you can use water that you have boiled vegetables in or chicken stock. Alternatively, use a cube of vegetable stock.
This would be one of those occasions where I would use my basil oil in the softening stage
Where would you like to go next?
Tomato Basil Soup Recipe
By Liz Alderson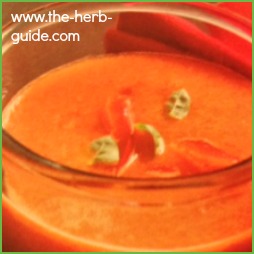 Superb basil pesto recipe that is very easy to make. Simple step by step instructions with photographs. Gorgeous with some hot pasta.
Prep Time: 10 minutes

Cook time: 25 minutes

Yield: 4

Main Ingredient: basil, tomatoes
I may receive a commission if you purchase something mentioned in this post. See more details here  This will not affect the amount you pay.