Tomato Relish
This tomato relish is very simple to make.
It's great with cheese or meats.
This quantity makes about a pint of relish - you can easily make more or less by adjusting the quantities. It's a good recipe for people who don't grow their own as well, because it's only 12 tomatoes! or if you've only had a small harvest.
You can use up your overripe tomatoes in this or even green ones off the vine that haven't had time to ripen before winter sets in.
You would need to taste and adjust the sweetness after cooking, as it would be a little tart and the point of a relish is to mix sweet, savoury and tart together.
---

You can try a sample lesson to help you decide if the Herbal Academy of New England is the right choice for you - click the link below.
Preview Lesson from the Introductory Herbal Course
---
Tomato Relish

12 ripe tomatoes
1 medium onion - finely chopped
3 garlic cloves - crushed
1 tablespoon mustard seeds
2 teaspoons allspice berries
1 tablespoon thyme - dried 
1 Cup - 7 oz (200g) caster sugar
1/2 Cup - 1/4 pint (150ml) cider vinegar
salt and pepper

Remove the cores from each tomato and then chop them finely.

Put into a large heavy based pan with the onion and mustard seeds.
Tie the allspice and thyme into muslin - drop into the pan.
Bring the mixture up to a simmer - simmer without the lid for about 45 minutes.
The mixture should be reduced to about two thirds.
Add the sugar and stir to dissolve.
Add some sea salt and black pepper and the vinegar.
Increase the heat and cook for about 30 minutes.
The tomato mixture should be quite thick by now.
Remove the allspice and thyme. Allow the bag to cool, then squeeze it out to get the flavor into the relish.
Store the relish in very clean jars - you can use it immediately and it will keep in the fridge for about a month.
As it's so quick to make, you can easily prepare some more.
I doubt it would last a month in my house!
You sterilise the glass jars for storage by washing them, then scalding them with hot water. You then dry them in a low oven. Or you can put them in a large pot of water, bring to the boil and let it simmer for 10 minutes.

Sterilising is essential if you're storing chutneys, jams and preserves for a long time, but not so critical if the storage time is going to be less.
What would you like to see next?
Tomato Relish
By Liz Alderson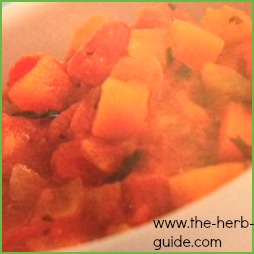 Really tasty and quick to make tomato relish. Perfect with cheese, fish or meat.
Prep Time: 5 minutes

Cook time: 90 minutes

Yield: 1 pint approx

Main Ingredient: tomatoes
I may receive a commission if you purchase something mentioned in this post. See more details here  This will not affect the amount you pay.