Herb Tips
Tomato and Basil Soup

There are as many tomato soup recipes as there are days in a decade, I'm sure. 
This is one of the easiest I know and will yield you the equivalent of two and a half tins of bought canned soup for a fraction of the price. 
The butter or your regular spread, adds some depth of flavor to the finished soup and how much you add depends on taste. You can leave it out if you prefer, but I really like it. It's one of the last things to be added, so you can give it a taste beforehand and if you think the soup tastes amazing already, then leave it. Add some cream and season with salt and pepper to taste. I find that if I add butter, then I don't need any salt as the butter has a saltiness to it already.
Cream of course is optional and you can get a really fine tasting soup with just the passata, chopped tomatoes and basil. 
If you like your soups spicy, add a squeeze of chilli paste, a pinch or two of chilli powder or dried chillis. 
It makes a really good and inexpensive store cupboard meal with some crusty bread.
I often make up a flask of it to take out in the winter when we go out on walks - it's lovely to sit in cold with a steaming mug of soup and some bread.
Creamy Tomato Basil Soup
By Liz Alderson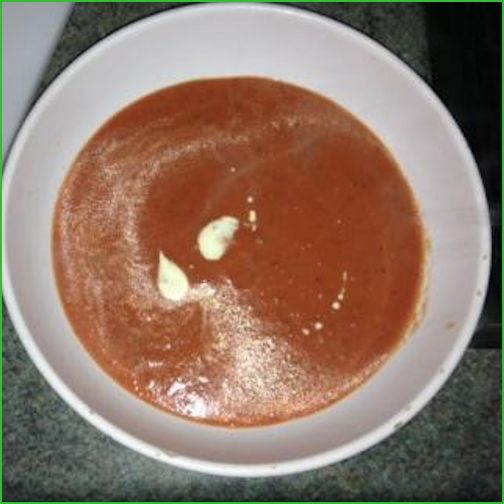 Super simple creamy tomato soup just like La Madeleine. Easy with step by step photos to help you.
Prep Time: 10 minutes

Cook time: 10 minutes

Yield: 4

Main Ingredient: basil, tomato