Tomato Basil Soup
As an Amazon Associate I earn from qualifying purchases

This is the easiest tomato basil soup recipe you could find.
You very likely have most of these ingredients in your storecupboard, fridge or windowsill.
If you don't have fresh basil, then use 1 teaspoon of dried.
If you like a smoother soup, then blend it with a hand blender or whisk prior to adding the cream and butter.

---
Tomato Basil Soup 
Serves four to six

2 large cans chopped tomatoes - plum are best
2 chicken stock cubes - I like Knorr
2 cups, 1 pint water
handful fresh basil leaves - finely chopped
1 tablespoon tomato puree
1 teaspoon sugar
1 cup, 1/2 pint cream - any type

1/2 cup, 4 oz butter

Take a large saucepan and pour in the tomatoes.
Dissolve the stock cubes in the boiling water and add to the pan.
Stir in the tomato puree and sugar.
Simmer for 10 minutes.
Add the basil and then turn the heat to low.
Stir in the cream and butter.
Once the butter has melted, give the soup a quick stir and serve immediately.
Garnish with a fresh basil leaf and maybe a swirl of cream.
Delicious and ready in next to no time.
With the addition of some crusty bread and maybe a salad to start, you have an excellent tea here which will give you four generous portions of soup with second helpings.
Canned tomatoes are more reliably flavored than fresh - if you have a good source of fresh, ripe tomatoes, then you can give it a go - you'd need about 2 to 3lbs and have to skin and chop them. But if you want reliability, then go for the italian peeled plum tomatoes in cans.
You can try fresh but add a spoon of sugar to taste and do make sure they're really ripe, in fact, they could even be going a bit mushy. If you've not got enough tomato flavour, then add some puree. If you get a glut of tomatoes, then canning them will often concentrate the flavour. 
Where would you like to go next?
The Herb Guide

›
Herb Recipes
› Tomato Basil Soup
Tomato Basil Soup
By Liz Alderson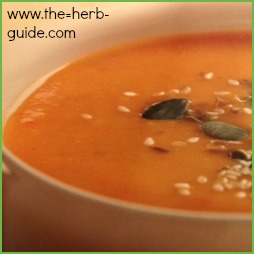 A really simple to make tomato and basil soup. You'll probably have all the ingredients you need in the cupboard - have a go today. Serve with some warm crusty bread for a satisfying meal.
Prep Time: 10 minutes

Cook time: 20 minutes

Yield: 4

Main Ingredient: tomato, basil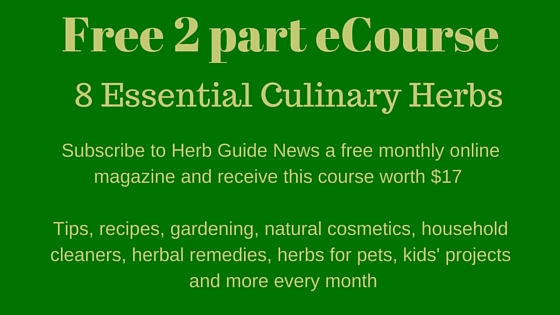 ---
I may receive a commission if you purchase something mentioned in this post. See more details here