Fresh Herb Recipe
Cilantro/Coriander Chicken
Stuffed Peppers
As an Amazon Associate I earn from qualifying purchases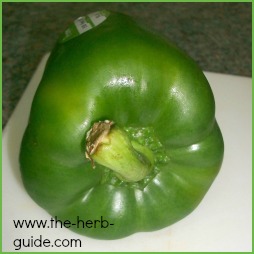 This fresh herb recipe is almost a chicken chilli stuffed into a pepper. You could easily substitute ground (minced) beef or soya mince, small chopped meat or vegetables.
You can use leftovers as well - if you look at the recipe, you'll see that the rice and chicken quantities are pretty easy to just save back from a meal and that makes this an economical and quick thing to put together.
For a vegetarian option, try 12 ounces (300g) mixed, fresh chopped carrots, tomato, courgette, onion - just chop it all small and cook in olive oil prior to adding to the mix.
---

You can try a sample lesson to help you decide if the Herbal Academy of New England is the right choice for you - click the link below.
Preview Lesson from the Introductory Herbal Course
---
If you can find peppers with a flat bottom for this recipe, then all well and good, but if you can't, just slice them level - then you can chop the bits and add it to the mixture.
Coriander Chicken Stuffed Pepper
1 1/2 cup/6 oz (150g) long grain rice - cooked and drained
4 large peppers
Olive oil
medium/10 oz (275g) jar hot salsa mix
2 cups/8 oz (300g) cooked, chopped chicken
large/200g (8 oz) can red kidney beans, drained and rinsed
grated cheese - about 1 oz per pepper
handful fresh cilantro/coriander, chopped
To serve, lime wedges, soured cream, corn chips and sliced avocado

Heat the oven to 220c Gas Mark 7.
Slice the tops off the peppers and scoop out the insides - brush with olive oil.
Put them and the lids in a roasting tin and bake for about 12 minutes.
Mix the rice, salsa, chicken, beans, cheese and coriander together.
Remove the peppers from the oven and divide the mixture equally between them.
Top with the lids and then bake a further 10 to 15 minutes.
Serve with lime wedges to squeeze over, some avocado slices, soured cream, corn chips and some warmed tortillas.
This recipe is great - chilli and you get to eat the bowl it's served in - that saves washing up!!
You could make a more traditional chilli to stuff these peppers - 
Herb Tips
Fresh or dried?
In most recipes you can substitute dried herbs for fresh. You obviously couldn't make a pesto out of dried herb (but you could out of frozen herbs and some people do soak their dried herbs in the oil to rehydrate them prior to making their pesto) and you can't reconstitute herbs to make a garnish, but you *can* and absolutely *should* use dried herbs if you haven't got fresh. 
In the old days, there was only one harvest period - your herbs grew and then you harvested them, drying them for out of season use. Nowadays, fresh herbs are available virtually all year round, grown indoors and marketed through supermarkets and other outlets. 
However, it is convenient to have some tubs of dried herbs in your cupboard, so that you can create a dish any time you like, without having to have a windowsill full of part used herb plants. They don't survive well,  they're not meant to. Look at my 'Why Supermarket Herbs Die' page for an explanation. 
Fresh herb recipe - try these pages
I may receive a commission if you purchase something mentioned in this post. See more details here  This will not affect the amount you pay.