Garlic Mushroom Recipe

As an Amazon Associate I earn from qualifying purchases

Follow this easy garlic mushroom recipe with step by step photo instructions. 
Such a simple but tasty appetizer or snack for lunch. As with all garlic recipes, be aware that your breath will most likely smell and so you need to chew some raw parsley afterwards or just not be going out to an important interview or meeting ;-) 
All you need is butter, mushrooms,  garlic and some sprigs of parsley.
They take a minute or so to cook - so have your warmed plates ready before you start to cook.
---

You can try a sample lesson to help you decide if the Herbal Academy of New England is the right choice for you - click the link below.
Preview Lesson from the Introductory Herbal Course
---
Take 2 cloves of garlic which you will need to crush or mince.
I use this crusher which I have had for about 35 years! You can use a knife to chop and crush if you prefer.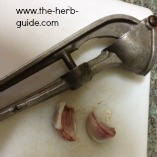 Peel the cloves - these 2 look very fat and juicy - if you like your mushrooms with lots of garlic, then you could use more or if they're only small cloves, then use three.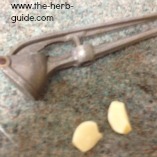 Take about 2 oz (50g) 1/2 cup of butter.
You can of course use any type of spread you prefer - your usual low fat spread would normally be suitable. You will be frying with it, so be aware that some spreads don't fry too well.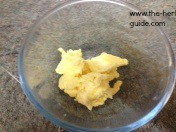 ake about 4 oz (100g) 1 cup button or flat mushrooms.
Give them a wipe, but there is no need to peel them.
You could use any type you like - have a look at the supermarket to see what different kinds you can buy.
Slice the mushroom evenly.
You just need to use an ordinary kitchen knife - it's not worth messing up a processor for the amount in this recipe.

Melt the butter in frying pan or saucepan over a medium heat.
It will take about 30 seconds to a minute before it is sizzling.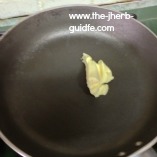 When it is sizzling, add the garlic cloves and stir them with a wooden spoon or spatula.
You just want to soften the garlic - be careful it doesn't burn.
It will take around a minute.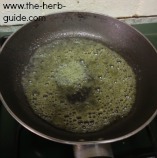 When the garlic has softened, add the sliced mushroom.


Give it a good stir to coat in the garlicky butter.

Keep stirring until the mushroom is cooked through - around 1 to 2 minutes.

Some crusty bread would be good with this recipe to mop up the garlicky juices.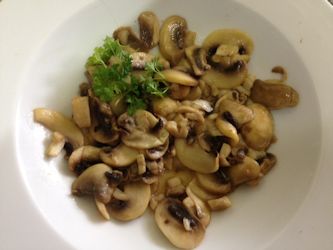 If you enjoyed this garlic mushroom recipe, then try these other herby appetisers
Garlic Mushrooms
By Liz Alderson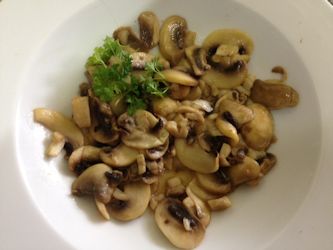 Superb garlic mushrooms. They make a great appetizer and are so quick and easy to make. Step by step photos to show you how to make them.
Prep Time: 5 minutes

Cook time: 5 minutes

Yield: 4

Main Ingredient: mushrooms, garlic, butter
I may receive a commission if you purchase something mentioned in this post. See more details here  This will not affect the amount you pay.