Sage Recipe - Pumpkin Soup
As an Amazon Associate I earn from qualifying purchases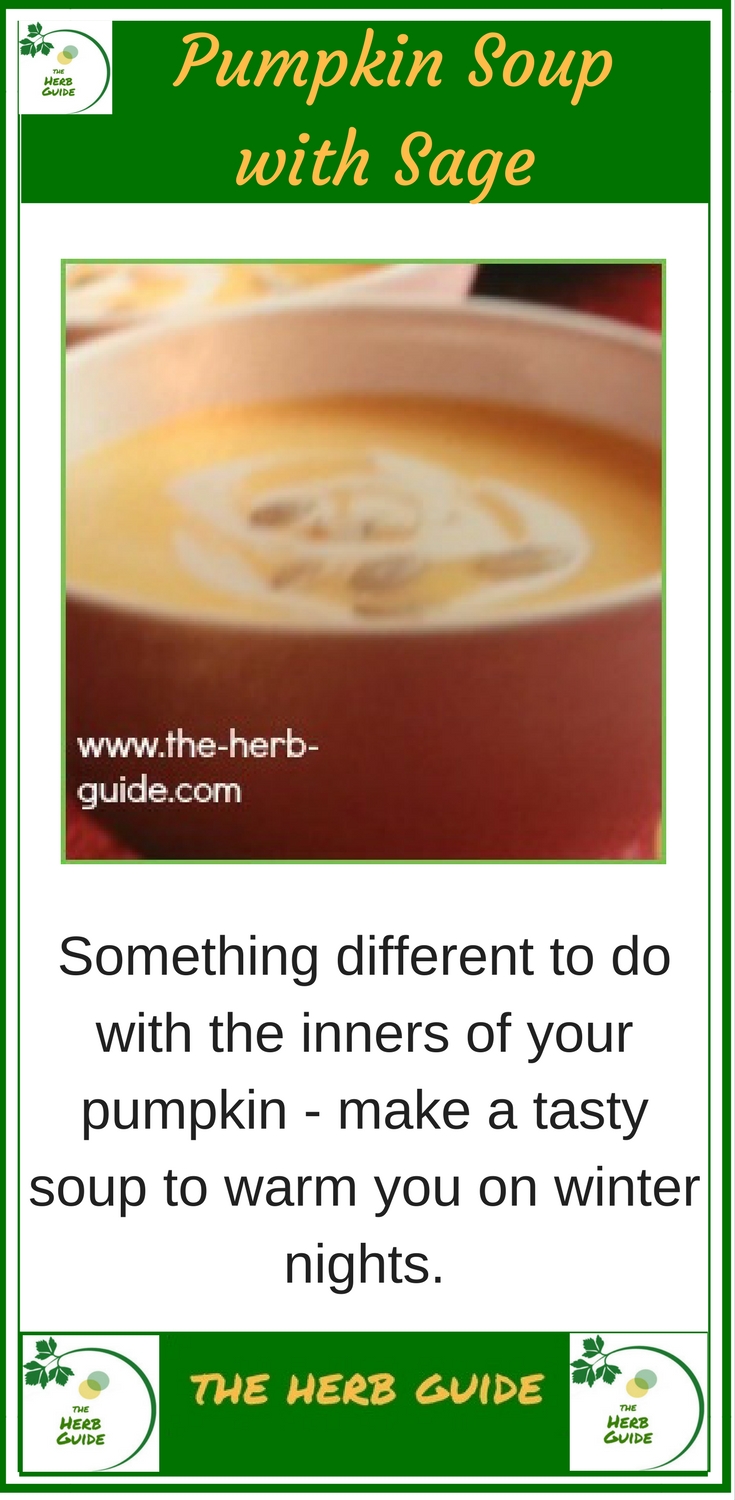 This sage recipe uses the pumpkin flesh that you have gouged out to make a lantern - it's a good halloween recipe although of course you can use it any time.
A pumpkin is not just for halloween :-) 
Nor do you always have to make pumpkin pie with it!  
I often struggle with the waste aspect of making pumpkin lanterns and am forever trying to find good recipes to use up the flesh. This is perfect - you could even freeze the flesh to use up later when there is not so much fresh stuff available. It's a very warming soup and perhaps would make a good one to warm your hands on when you're watching fireworks for New Year (or if you're in the UK, bonfire night!)
Use fresh sage if you have it, but if not, then this recipe is fine if you substitute a teaspoon or so of dried. It will rehydrate in the soup and you will barely tell the difference. 
---

You can try a sample lesson to help you decide if the Herbal Academy of New England is the right choice for you - click the link below.
Preview Lesson from the Introductory Herbal Course
---
Pumpkin soup with sage recipe
1 oz (25g) 1 stick butter

1 onion - peeled and chopped

1carrot - peeled and chopped

12 oz (350g) 3 Cups diced pumpkin

1 1/4 pint (750ml) 5 Cups milk

1 tablespoon fresh sage chopped or 1 teaspoon dried sage

pot fresh yoghurt or cream to serve (optional)


pumpkin seeds

salt and pepper to taste
Melt the butter in a pan and saute the onion and carrot until soft. Don't let it brown as the soup is quite light in color.
Add the pumpkin and milk and let it simmer for around 30 minutes until the vegetables are soft.
Add the sage in the last 5 minutes.
Process the soup in a blender, processor or use a stick blender.
Taste to see if you need to adjust the seasoning before returning to the pan to re-heat.
Serve with a dollop of cream or yoghurt, a sage leaf or two and a few pumpkin seeds on top to finish this lovely soup recipe.

This really is a super simple recipe for soup - you could use butternut squash as a substitute and the method would be exactly the same.

Some more sage recipes that you might like
Sage Pumpkin Soup Recipe
By Liz Alderson
Pumpkin Soup & Sage Recipe. A great idea for using up the pumpkin flesh left over from carving for Halloween.
Prep Time: 5 minutes

Cook time: 30 minutes

Yield: 4

Main Ingredient: pumpkin, sage
I may receive a commission if you purchase something mentioned in this post. See more details here  This will not affect the amount you pay.