Pork Tenderloin With Sage
Pork Tenderloin with Sage
As an Amazon Associate I earn from qualifying purchases

A grilled pork tenderloin with sage recipe.
Pork tenderloin is the 'eye' that runs down the rib of a pork chop.
You can of course use four pork steaks or chops instead of tenderloin.  
Using eating apples means that you don't have to add sugar to the recipe, making it a healthy alternative. 
If you like, you could add a spoon of  honey to taste. 
---

You can try a sample lesson to help you decide if the Herbal Academy of New England is the right choice for you - click the link below.
Preview Lesson from the Introductory Herbal Course
---
Pork Tenderloin with Sage and Apple Sauce
4 pieces of pork tenderloin
1 lemon
handful of sage leaves - chopped
about a pound (500g) eating apples - peeled, cored and chopped

You're going to grill (broil) these pork tenderloins so heat your grill to medium.
Grate the zest off the lemon and squeeze the juice - keep separate.
Mix the zest with half the sage - sprinkle a pinch over the pork - you're going to season in this way every time you turn, so just a pinch each time will do.
Put the pork under the grill - turn it every 5 minutes or so and cook in total for about 30 minutes.
Put the lemon juice into a small pan, add the apple pieces and the rest of the sage.
Bring to the boil and simmer until soft.
Serve the apple and sage sauce with the cooked pork, roast/baked potaoes and green veg.
This is so simple - it combines sage with apple to give you a sauce that cuts through the richness of the pork tenderloin.
Serve it with roast potatoes and roast vegetables - whatever's in season.
To make quick roast potatoes, cut large potatoes into small chunks, brush with oil and bake in a hot (200c, 180f, Gas Mark 6) oven for about 45 minutes until cooked through and crispy.
The pork tenderloin and sauce will cook in this time.
Your veg can also be ready in this time -  a quick, nutritious meal.
Herb Tips
Choosing your meat

If  you don't want steaks or chops, you could buy a whole pork tenderloin as a roasting joint. It will need 20 minutes per pound and 20 over - make sure the juices are clear before serving. Cover it in foil to rest for about 20 minutes, which will let the juices flow back into the meat, keeping it moist. 

What would you like to see next?
---
Pork Tenderloin with Sage
By Liz Alderson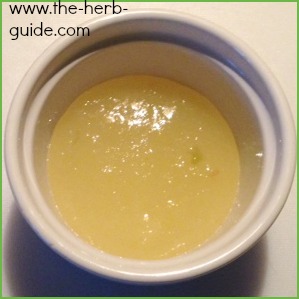 Pork and sage are a perfect match and this simple way of serving is just perfect for a midweek meal.
Prep Time: 10 minutes

Cook time: 30 minutes

Yield: 4

Main Ingredient: pork, sage
I may receive a commission if you purchase something mentioned in this post. See more details here  This will not affect the amount you pay.