Tomato Basil Bisque
As an Amazon Associate I earn from qualifying purchases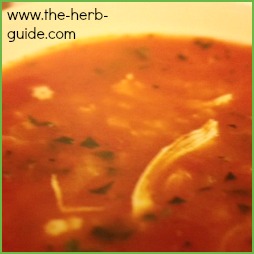 I have had requests for a tomato basil bisque recipe, so here it is.
A bisque is a creamy soup with french origins. It is normally a seafood soup with the shells of crustaceans being ground to a paste to thicken it.
Here, we are using some flour and pureeing some of the bisque to thicken it.
---

You can try a sample lesson to help you decide if the Herbal Academy of New England is the right choice for you - click the link below.
Preview Lesson from the Introductory Herbal Course
---
Tomato Basil Bisque
2 oz (50g) butter
1 medium onion, finely chopped
1 celery rib, finely chopped
3 cloves garlic peeled and crushed
2 oz (50g) tablespoons plain flour
2 pints (1.25 litres)chicken stock
2 cans (14.5 oz size) chopped tomatoes
2 tablespoons tomato puree
1 teaspoon sugar
2 bay leaves
handful fresh basil chopped or 2 teaspoons dried basil
6fl oz (150ml) double cream
salt and pepper to taste
cream, basil leaves, croutons and fresh parmesan to finish

Melt the butter in a large saucepan.
Add the onion, celery and garlic. Cook for around 5 minutes until they are soft and golden.
Remove the pan from the heat and add the flour.
Using a wooden spoon, make a smooth paste with the butter and ensure it's lump free.
Cook for a couple of minutes over a low heat. This is to cook the flour, stir it constantly to ensure it doesn't burn. This step is quite crucial to the whole recipe.
Add the stock, tomatoes, tomato puree, sugar, bay leaves and basil then bring the bisque to a boil.
Simmer for about 10 minutes.
Remove the bay leaves then, using a blender puree at least half of the soup. The choice is yours if you want a chunkier or smoother soup, then blend accordingly.
Return to saucepan, stir in the cream and season to taste.
Add a swirl of cream, top with croutons, freshly grated parmesan cheese and a couple of torn basil leaves.
It's a longish list of ingredients for a vegetable soup, they're normally much simpler than this, but a bisque is not just any old tomato soup.
Regarding the stock. If you're vegetarian then of course you can use a vegetable stock or plain water.
I tend to make my stock from cubes of whatever type. In the UK, we have Knorr stock cubes which are excellent and I would use a couple of chicken ones as the basis of this soup.
Give it a try - it will serve 6 and would be lovely with some crusty bread.
Float a spoon of cream on the top just prior to serving, then scatter some croutons and grated parmesan cheese. These are all optional, the bisque is lovely served plain, but these toppings add a bit of extra interest.
Where would you like to go next?
I may receive a commission if you purchase something mentioned in this post. See more details here  This will not affect the amount you pay.